With the news of Pekka Rinne going on injured reserve, the Nashville Predators are surprisingly not in panic mode. That's because Rinne's backup and eventual successor Juuse Saros has been excellent in relief of Rinne.
You might even say he's looked like the Preds best goalie through eight games.
That's kind of a crazy statement considering that Pekka Rinne is coming off a Vezina Trophy win and has been pretty damn good so far in 2018-19.
But it just might be the truth.
Rinne is 3-1-0 with a .929 save percentage in five games, including wins over the Rangers, Jets, and Wild. But Juuse Saros is now 4-0-0 with a .945 save percentage through four starts. He's registered wins over the Islanders (twice), Flames, and Oilers.
I'm not suggesting that the Preds should go ahead and make the switch in goal. When Rinne comes back from injury, he should return to being the starter in net. He's earned that right and Saros is still considered the heir apparent.
But even if you ignore the stats, its impossible to ignore what we've seen in action. Saros has looked incredibly comfortable in the Nashville net. He's limiting rebounds, tracking the puck well, and there's virtually no weakness in his game right now.
We still don't know the extent of Rinne's injury, and it doesn't sound like anything too long term. But the Predators have to be feeling somewhat stoic about the goalie situation since Saros is playing like he definitely belongs.
GIF Me That Good Stuff
Early last week, Filip Forsberg found himself in behind the Minnesota Wild defense.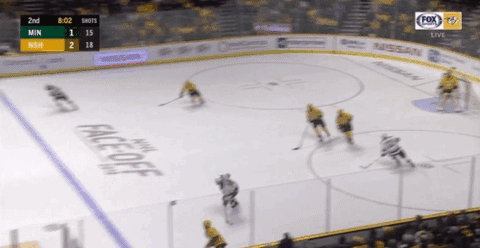 Like way behind.
This Week's Numbers
2.25 – This is Viktor Arvidsson's shot rate per game so far this year.
3.17 – This was Arvidsson's shot rate per game last year. He's definitely shooting less. But don't worry! Filip Forsberg and Ryan Johansen, who are both better quality shooters, are making up that difference.
5 – The number of career shutouts for Juuse Saros.
2 – The number of career shutouts for Juuse Saros against the Edmonton Oilers.
Let's Do That Hockey
A couple home games sandwiched around a trip to Newark.
Tuesday 10/23 – 7:00 PM: Predators vs. Sharks [NBCSN]
Thursday 10/25 – 6:00 PM: Predators @ Devils [FS-TN]
Saturday 10/27 – 2:00 PM: Predators vs Oilers [FS-TN]
Final Thought
So are the Preds really this good?
They've certainly looked like a world-class team at times, but they've also had stretches of poor play. For example, just a game before they dominated the Winnipeg Jets, the Preds looked completely helpless against the Calgary Flames. Then against the Islanders at home, the Preds nearly blew a three goal lead before finishing off the Isles 5-2.
I'm not suggesting the Preds haven't been playing well, because they have. They are near the top of the league in many offensive and defense categories and, as mentioned before, they have elite goaltending.
But it's also possible the Preds are getting a bit lucky in this early part of the season.
In fact, the Preds are currently one of the luckier teams in the league according to one luck measurement. Sean Tierney's PDO breakdown (PDO is team shot percentage plus team save percentage and is often referred to as a "luck" metric) shows the Preds leading the way in the "lucky" quadrant.
The Preds are currently top five in the league in both shooting percentage and save percentage. We shouldn't expect them to maintain these rates the rest of the season. Most teams regress back to the league average at some point.

So this means we will likely see more "average" goaltending and shooting at some point, which will of course mean some losses here and there. The Predators are very good but they aren't invincible.

However, the Nashville Predators are certainly among the best teams in the league. With consistent goaltending,an emergent forward group, and arguably the league's best defense, the Preds will continue to win more games than they lose. Not exactly a hot take, but hey, when the team has won seven of their first eight, there's only so much to worry about.

— Featured image via Perry Nelson-USA Today Sports —

https://atozsportsnashville.com/weekly-edge-juuse-saros-picks-up-predators-pekka-rinne-injured/